CIVIL CEREMONY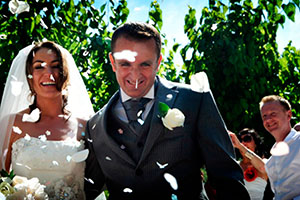 The wedding ceremony is the main event of the wedding, is the intimate moment where you say "I do" and you share it with everyone. With us, will not only be memorable just for you, also for your guests. Tell us your ideas about how you would like, to decide for yourself outside with mountain views or inside in a place full of history, we create what you've always wanted, we can help you with the protocols, we are guided to facilitate we make it and enjoy this magical moment.
Services for civil ceremonies:
- MUSICAL ENTERTAINMENT
- FLOWER AND BRIDAL BOUQUET >>
- TRANSPORTATION FOR THE COUPLE.
- PHOTOGRAPHY AND VIDEO
Warning
: "continue" targeting switch is equivalent to "break". Did you mean to use "continue 2"? in
/var/www/vhosts/masiamascoll.com/httpdocs/library/Zend/Form.php
on line
1164
Warning
: "continue" targeting switch is equivalent to "break". Did you mean to use "continue 2"? in
/var/www/vhosts/masiamascoll.com/httpdocs/library/Zend/Form.php
on line
1669